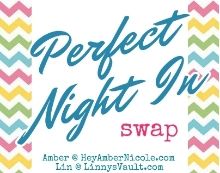 My buddy
Lin
had another awesome blogger swap. We were paired up with partners and then we had to spend at least $20 on goodies so that they could have the "Perfect Night In".
I was paired with the amazing
Kari
(who ironically I featured in a post recently that we set up BEFORE we became swap partners:
A Batman Wedding and a $9 Dress
). She is super fashionable, frugal and fantastic. Make sure you check out her blog. You can also see the goodies I got her since I am slacking and posting this late. :)
Kari got me:
*que bella relaxing aromatherapy lavender day mask
*Easter card
*magnetic note pad
*Stride sugar free gum
*bodycology body cream in cherry blossom
*Sinful colors nail polish in Aquamarine
*$10 Target gift card to put toward the last Twilight movie
I Love Everything!! I am trying the mask today since it is my first day off since I got my package. The nail polish and gum are SO "Me". Cherry Blossom is my favorite scent and I stashed my hand cream at work since I needed some for my desk. $10 Target gift card = awesome. Thanks Kari for being such an awesome swap partner and I hope we stay in touch.
If you are a blogger interested in signing up for swaps, keep an eye on Lin's website. She hosts them quite often. If you are a reader wanting to swap, leave me a comment. I would be willing to set something up if enough people are interested.